There is a better way to resolve conflict. 
Ask about the FAMILY MEDIATION VOUCHER SCHEME which may pay up to £500 of the cost of cases which include child arrangements.
Mediation up to 80% cheaper than legal fees.*
Mediator, Catherine Frances, has been nominated for the Newcomer of the Year Award at the 2022 National Mediation Awards!
Stratford Family Mediation is the winner in the 2022 Stratford Herald Business and Tourism Awards. Super proud. Great team work!
"Too many family breakdown cases are going to court rather than being settled through mediation … Family breakdown cases which are resolved through professional mediation are cheaper and quicker to settle. And academic research shows that they secure better outcomes, particularly for children, as they are less acrimonious." 
The National Audit Office 
Stratford Mediation Services
Mediation is often a quicker, cheaper and less stressful way of resolving a dispute between two or more people.
It involves an impartial, independent third person, who can provide information – but not advice – to help separating couples talk through their issues, negotiate, and reach a mutually agreeable solution, avoiding the acrimonious court process.
Using an FMC Accredited Mediator to resolve family disputes ensures that your mediator is qualified, experienced and has been extensively assessed to ensure they meet the high national standards set by the Family Mediation Council.
All the mediators at Stratford Family Mediation are FMC Accredited.
Where a marriage or relationship has irretrievably broken down, mediation can help minimise distress to everyone involved.
Together with an impartial mediator you can work logically through each issue, even where conflict exists or communication has broken down.
You do not necessarily have to be in the same room or on the same Zoom screen to mediate if you would feel uncomfortable.
At the end of mediation, we can write up a Summary of Proposals' without prejudice document, which you can take to your solicitor.
Mediation is especially useful for couples who are not married, and therefore fall under Civil, rather than Family, legislation.
"Nearly two thirds of couples who attended a single mediation session for a child dispute reached a full agreement. Almost seven out of every ten couples who opted for mediation reached an agreement." 
Source: Ministry of Justice 20 August 2014
Mediation promotes a good a relationship between parents and children, obviously taking safeguarding risks into account. 
Mediation also avoids any unnecessary costs, especially if we apply for a Mediation Voucher which can cover up to £500 of expenses, including the cost of a Child Inclusive Mediation (CIM) session.
Child Inclusive Mediation is an additional service all our mediators are qualified to offer. CIM gives children the opportunity to talk with the mediator working with their parents, and share their views or concerns about the current and future situation.
This meeting is confidential, but the young person can agree a message to be relayed to parents via the mediator.
In our experience, giving children the opportunity to voice their opinions always makes a valuable contribution to the mediation process and enables the adults to make informed decisions about arrangements for their children.
"Mediation is proven to resolve finance-related disputes in a quicker, less stressful manner. The cost of mediation vs legal fees is undisputed, with mediation proving less costly and more effective."
Source: National Audit Office
Mediation follows the same Open Financial Disclosure process as the court, but you make the decisions about your property and finances, rather than asking a judge to decide for you.
At the end of mediation, we can produce an Open Financial Summary document clearly setting out your proposals, which you can take to your solicitor to submit to the court as part of your divorce process.
'Integrated Mediation' is a relatively new form of mediation, where you can invite your solicitor or another professional to join a mediation session, in a supportive, advisory capacity, provided everyone agrees this would be beneficial to the process.
This can help avoid a lot of legal correspondence afterwards, and your solicitor can potentially assist in making any joint proposals legally binding.
In addition to lawyers, Integrated Mediation may include Women's Aid support workers, social workers, mental health advocates, therapists, or wider family members.
Both Catherine and Philippa are trained and experienced proponents of Integrated Mediation.
If you receive a benefit, like Universal Credit, or had a gross income of less than £2,657 during the past month, and under a formula that takes expenses, capital assets and savings into account, you might qualify for Legal Aid to cover the cost of mediation.
We can do an assessment if you think you might qualify.
If your mediation will include child arrangements, ask us about the MoJ Mediation Voucher Scheme, which is not means-tested, and may pay up to £500 of your mediation costs (funded until March 2023).
Meetings are available online (on Zoom) or face-to-face in a private meeting room in Chipping Campden, at no additional cost.
The Zoom App can be downloaded for free onto any device: https://zoom.us/support/download
Before starting mediation, a mediator has a separate 'Mediation Information and Assessment Meeting' (MIAM) with each person to understand the situation from their perspective.
A MIAM is completely confidential and usually lasts about one hour. If everyone agrees mediation will be suitable, we will arrange a joint 90-minute session.
If anyone feels that mediation will not resolve the dispute, we can provide you with the relevant court forms.
Meet Dr Catherine Frances
Affordable family mediation practitioner. Helping families throughout Stratford upon Avon, UK & Internationally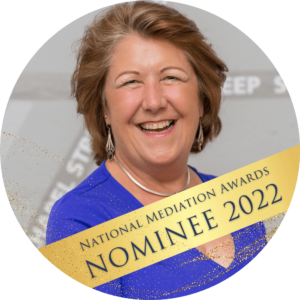 At Stratford Family Mediation, Catherine Frances offers an affordable, personalised divorce and family mediation service to clients in and around Stratford-upon-Avon and internationally. Mediation is a voluntary and confidential process which enables both parties to explain their concerns and needs to each other in the presence of a qualified mediator, reducing conflict by improving communication and understanding, allowing you to make informed decisions about your future.
Family Mediation Council URN 1569A
At Stratford Family Mediation practice, Catherine specialises in helping resolve disputes involving all kinds of family relationships, with mediation sessions focused on you and your unique circumstances.
Catherine will offer support and direction for clients who want to separate, divorce and parent amicably, or want to resolve other family disputes, for example between older children or relatives. Of course, this is far easier said than done, and a lack of faith or trust can be normal as well as distressing, but Catherine will take you through your dispute resolution options so you can reach an agreement that suits your situation.